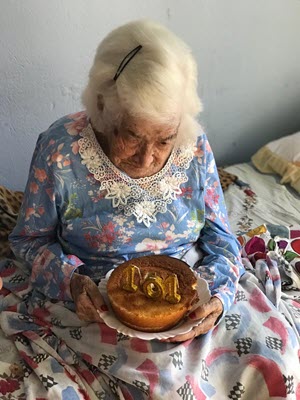 Alaide, my Brazilian mother, on her 101st birthday. She passed away on October 16, 2020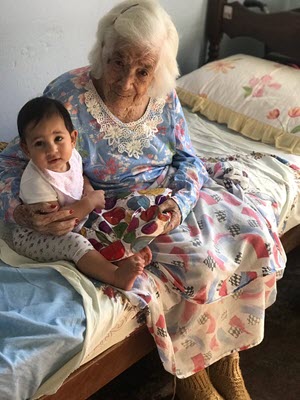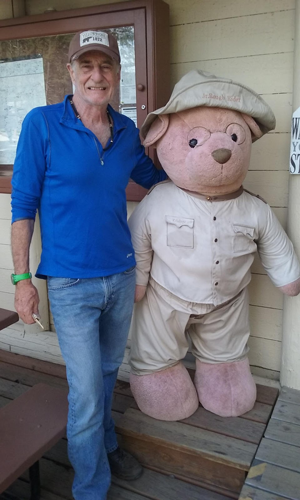 Marc with Roosevelt in Yellowstone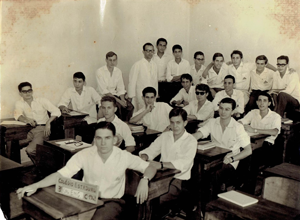 Colégio Estadual 1963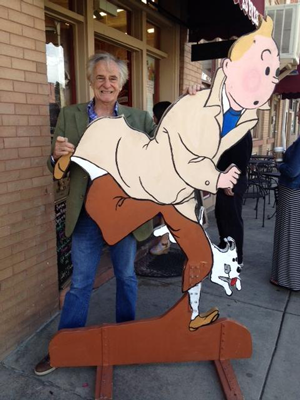 Tintin - One of Marc's childhood heros!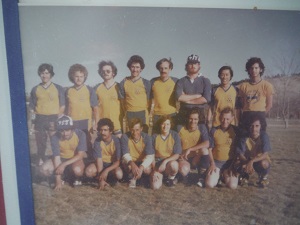 South Dakota School of Mines Soccer team, 1979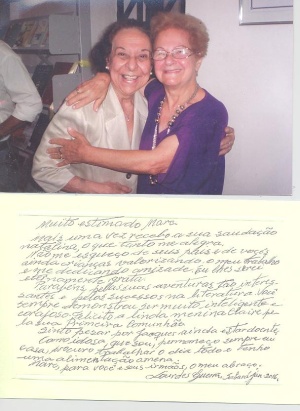 My fifth grade teacher, Dona Lourdes Guerra (on left).She was tough, demanding, and loving.

Prof. Gottstaein and our common Graduate Student Shiteng Zhao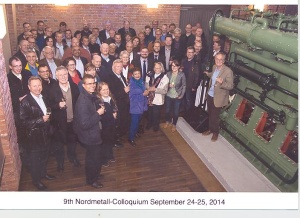 65th birthday celebration of Lothar Meyer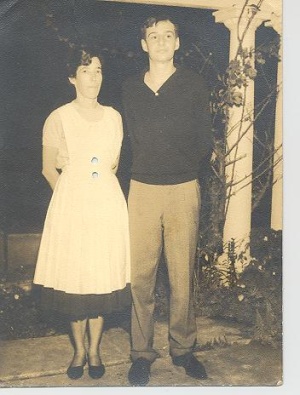 With Nanny Alaide in 1962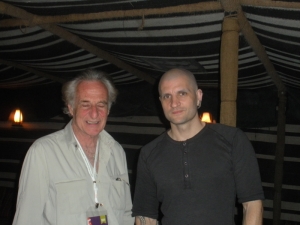 With the great writer China Mieville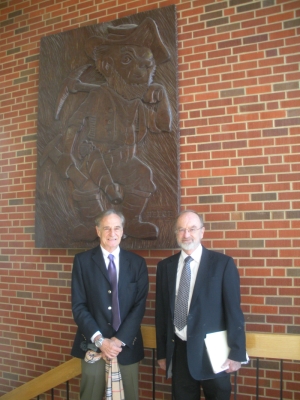 With Stan Howard and Grubby at SDSMT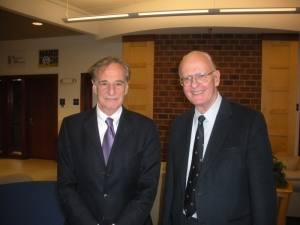 With Douglas Fuerstenau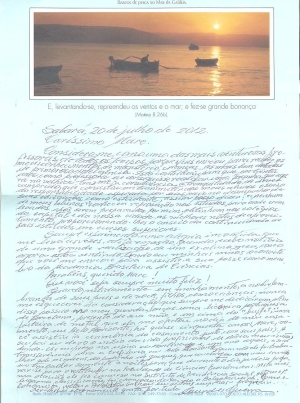 Letter from my great fourth grade teacher Dona Lourdes Guerra (Sabara)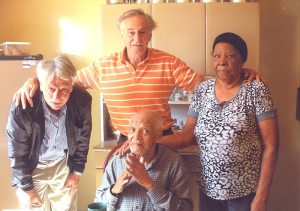 Our former gardener Carlos calixto Moreira, Jacques, and his wife Sebastiana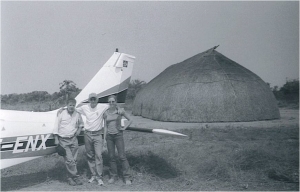 Visiting the Xingu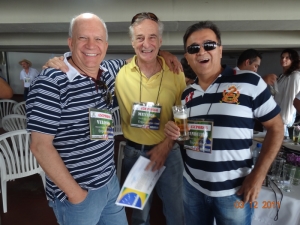 Veloso and Bandeira, CPOR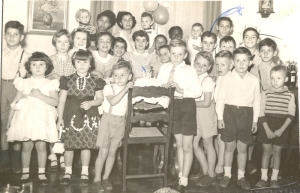 The Four Brothers: Marc, Pedro, Jacques, Carlos Meyers with Friends at Marc's 8th Birthday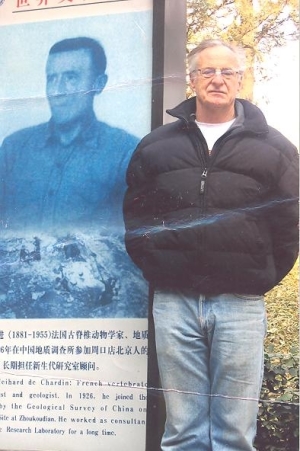 Teilhard de Chardin, Chou Kou Tien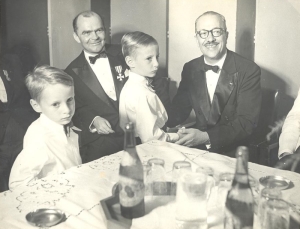 Pedro and Marc with Louis Ensch, 1952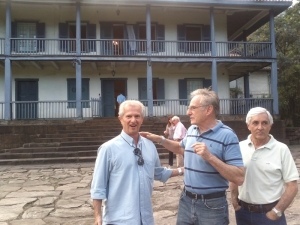 Monlevade Fazenda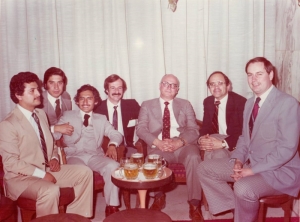 Maurie Fuerstenau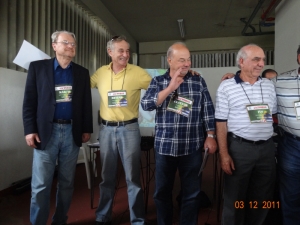 Lacerda, Clayton, and Iivo, CPOR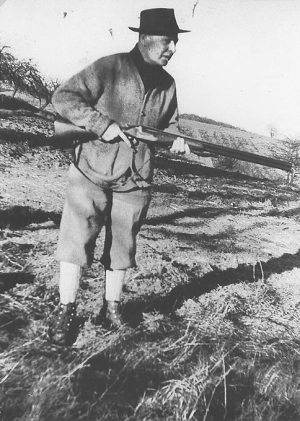 Henri Meyers Hunting in Luxembourg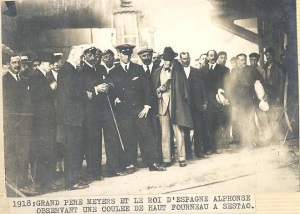 Grand father Grand father Jean-Pierre Meyers with King Alfonso of Spain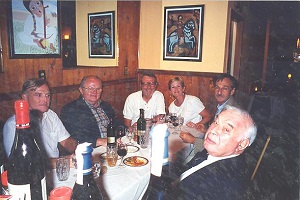 Gareth Thomas, Jack Gilman, Frank Nabarro on a Happy Occasion:the IMM Summer School at the Catholic University in Washington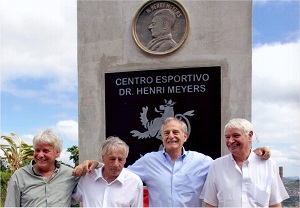 Four Brothers: Marc, Pedro, Jacques, Carlos at Inauguration Monlevade Esportivo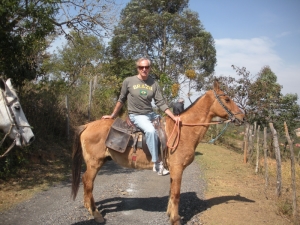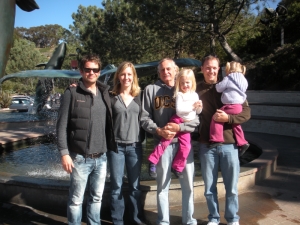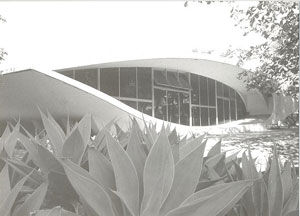 The amphiteater of Colegio Estadual de Minas Gerais, my High School. Project design: Oscar Niemeyer, the greatest Brazilian architect. Dilma Rousseff also studied there. Colegio Estadual de Minas Gerais Daughters of traditional Minas Gerais families, the girls that came from Our Lady of Sion should have been surprised at what they saw for the first time, stepping into Colegio Estadual de Minas Gerais. Without ceremony with the architecture of Oscar Niemeyer, a graffiti wall shimmered in a modernist building of the school: "The only causes that die are those for which nobody dies." Gray skirt, much shorter than the nuns would allow, white shirt and green bowtie , Dilma Vana Rousseff , 16 , was among newcomers , transferred to public school after the sale of Sion . For all, it was like leaving a Mass said in Latin directly to an inflamed student assembly. And the change happened against the grain of history. Dilma and her colleagues arrived at Colegio Estadual de Minas Gerais in 1964 , when the country was closed and democratic freedoms had left the scene. Flagship of public education in Minas Gerais, Colegio Estadual was the epicenter of the student unrest of the period. In order to be admitted, the student had to pass a highly competitive exam, consisting of mathematics and composition (an essay on a topic). The environment, all open and grassy, exuded freedom. Students were seen as bearded and radicals. It was just two years that Dilma spent there, but enough to operate a revolution in the head of a girl who , shortly before, studied Latin, learned crafts such as embroidery and knitting and attended debutante balls in the state capital . At Colegio Estadual, Dilma found the cause to risk life for . "And that was the time I came in contact with the Worker Party," she said. "We were here quite rebellious,"recalled the president, in a visit to the old school. The rebellion was already in the radical design of the architect. Opened in 1956, the college reflected the aesthetic revolution started in the 1940s by the Pampulha complex. To design the auditorium, Oscar Niemeyer, the greatest Brazilian architect and the creator of Brasilia, was inspired by a blotter. The building of classrooms would be a ruler; a water tank, a piece of chalk; and the canteen , a notebook . As there were no walls and the rooms were supported by stilts, looking like the whole building was floating , the internal area could see the city center . The Colegio Estadual had no director, but a rector. Their teachers did not simply teach, but had chairs, reinforcing the idea of a college - university. This is how the girls from Sion, with no option of more traditional teaching, found the college in the first half of the 1960s. Among the newcomers, two daughters of the Governor Magalhaes Pinto, Virginia and Ana Lucia. Their father would be the leader of the Revolution of 1964 that toppled the leftist Jango government. Marc Meyers, a shy boy, also passed through these classrooms.

TERRA ONDE EU FUI FELIZ
(MARC MEYERS & RÕMULO RAS)

UM CORAÇÃO DE CRIANÇA
DEPOIS DE MUITA ANDANÇA /JÁ VEM
CHEIO DE VIDA E CANSAÇO
QUERENDO GANHAR UM ABRAÇO
SEM ME ESQUECER DE NINGUEM

VOU NESSA VIDA JÁ VELHA
VOU PRA ESSA TERRA VERMELHA /VOLTAR
MINÉRIO CHEIO DE BRILHO
FUI E VOLTEI COMO UM FILHO
E QUERO TE FESTEJAR

TERRA DE MUITO TRABALHO
DE SÃO JOSÉ OPERÁRIO /A MATRIZ
DO PAPA-ARROZ . ASSANHAÇO /E BEM MAIS
TERRA ONDE EU FUI FELIZ /E SEREI
LUGARES E AMIGOS DEMAIS

MONLEVADE ... MONLEVADE...
TUDO GUARDEI NA IMAGINAÇÃO
MONLEVADE ... MONLEVADE...
QUE SINTO TANTA SAUDADE
MINHA QUERIDA CIDADE
QUE VIVE NO MEU CORAÇÃO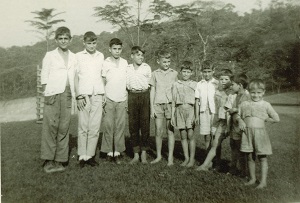 Childhood Friends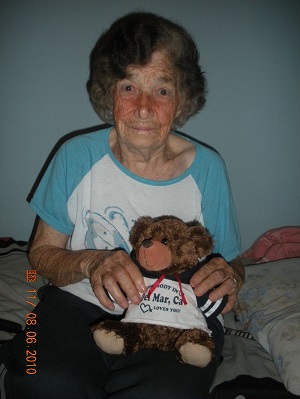 Alaide and Chiquinho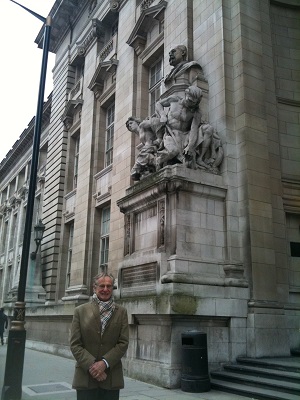 Admiring voluptuous entrance to Imperial College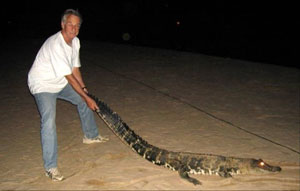 Alligator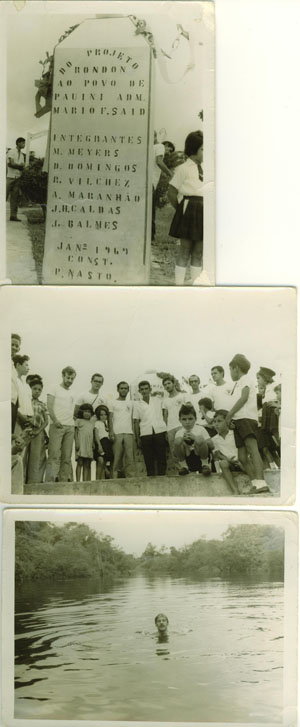 Rondon Project, Amazon, 1969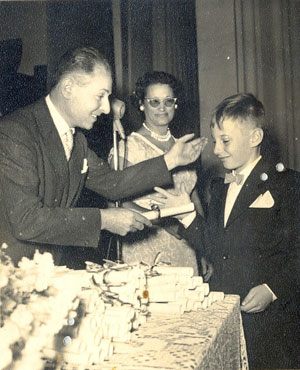 Marc and father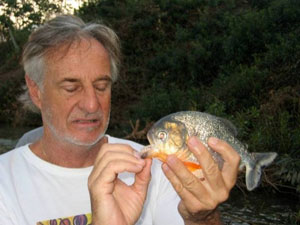 Assessing piranha dentition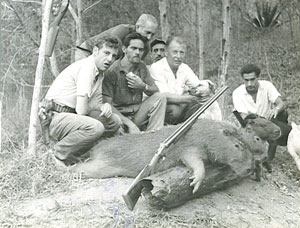 Hunting in Brazil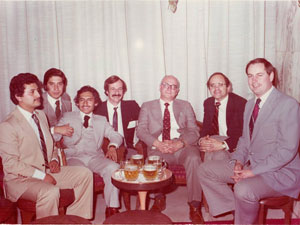 Maurie Fuerstenau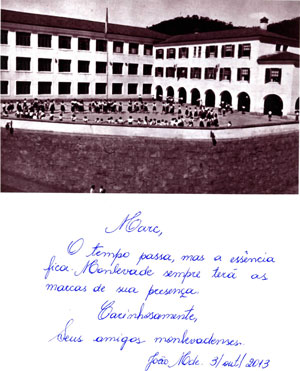 Grupo Escolar Monlevade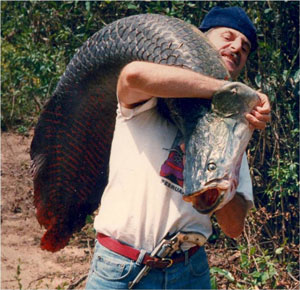 Catching an arapaimas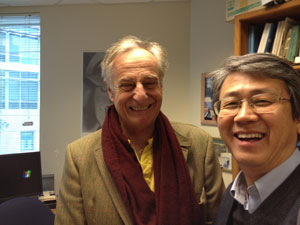 Dr. Kim from KAIST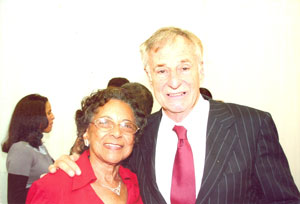 Emotional encounter with second grade teacher, Dona Conceicao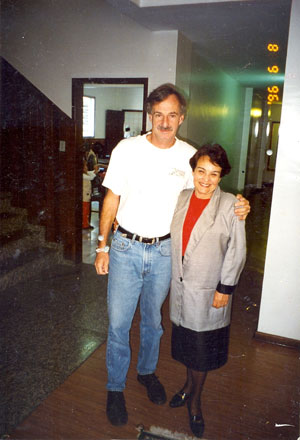 First Grade Teacher, Dona Josefina Bruzzi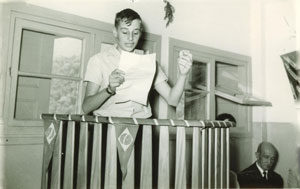 First stabs at public speaking Gremio Literario Padre Leonel Franco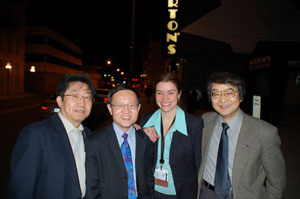 TMS Biomaterials Symposium Profs Sata, Hodge (chair), Lim, Sokabe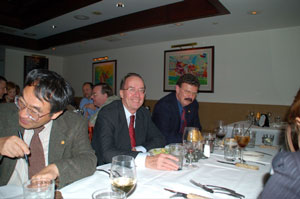 TMS Biomaterials Symposium Profs. Ritchie, Bonfield, and Jin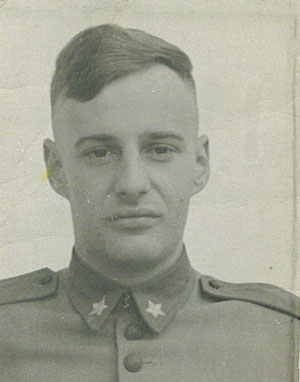 Marc in Brazilian Army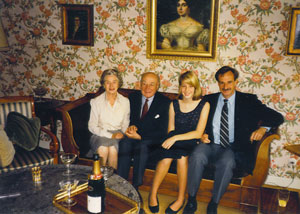 Mannette,Uncle Felix Meyers, Cristina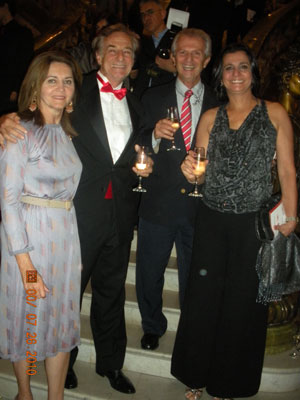 Linda with Sergio and Suzana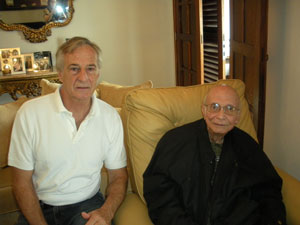 With Padre Henriques my first mentor and her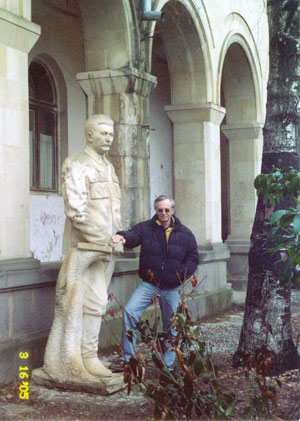 .With Stalin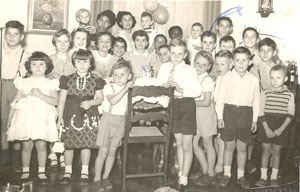 The four brothers, Marc, Pedro, Jacques, Carlos Meyers with friends at marc's 8th bd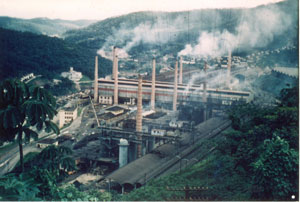 Monlevade, my home town Our first house behind tree on left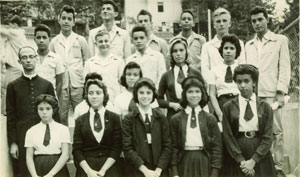 Middle School (Ginasio) in Monlevade Padre henriques on left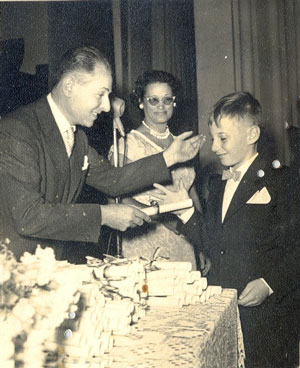 .
Henri Meyers and Dona Merces with Marc at Fourth Grade graduation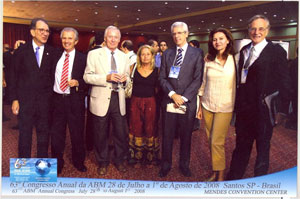 Moura Neto, Sergio Neves, Jurgen Kestenbach and wife, Fernando Rizzo, Linda, and Marc.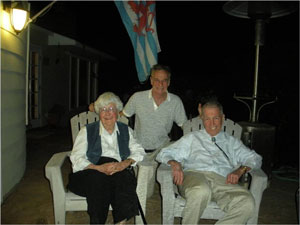 With Profs. Julia and Hans Weertman.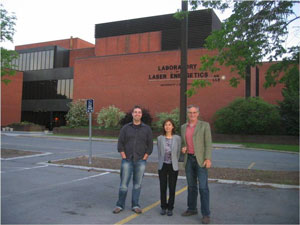 With H. S. Park and B. Maddox in the Laboratory for Laser Energetics U. of Rochester.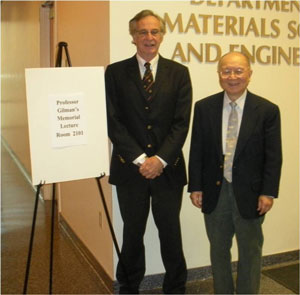 With Prof. J. C. M. Li at the Gilman Memorial Lecture in UCLA.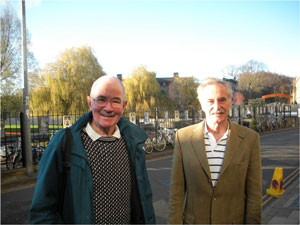 With Prof. Ashby in front of Granta River, Cambridge.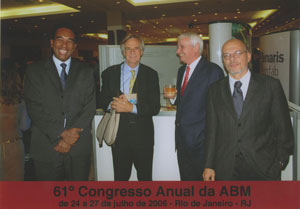 Marc Meyers with his brother Pedro and Dr. Fernando Lins from the Ministry of Mines and Energy at the Brazilian Society for Materials (ABM) meeting.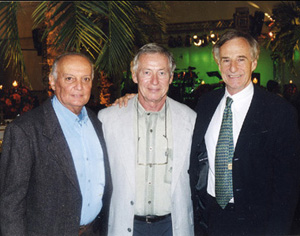 Profs. Miguez, Kestenbach, and Meyers in Brazil. Prof. Miguez is an expert on ballistics ( Military Institute of Engineering) and Prof. Kestenbach is a superb electron microscopist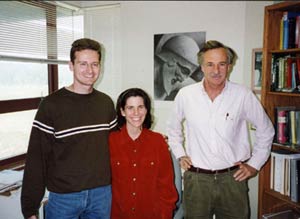 Dr. Reiner Menig (Bosch, Germany) and Future Dr. E. Strutt. Dr. Menig received a best thesis award from the U. of Karlsruhe for his work (carried out at UCSD) on abalone. FDr. Strutt is developing a process to produce NiTi-TiC cermets by combustion synthesis and quasi-isotropic consoilidation.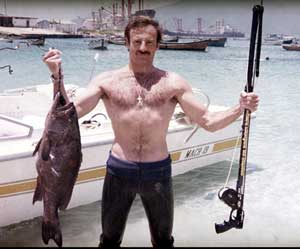 Professor Meyers ( in his younger days) with an underperforming graduate student. He mellowed (and shrank) considerably since then.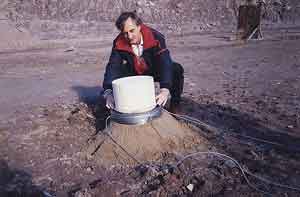 Dr. Meyers preparing an explosive device to drive metal plate at 2 km/s on a target. Tantalum specimens are embedded into metal base.The goal of this experiment is to determine the effect of shock loading on the microstructure and performance of tantalum, which is used in explosively forged projectiles (EFPs) used by the Army to "neutralize" combat tanks. Explosive device consists of plane wave lens ( two emulsion explosives; designed by M. Yoshida at New Mexico Tech during his visit to that institution) and main charge of Composition B. Explosive event was coordinated by Mr. Fred Sandstrom.

Gil Hegemier, Penny Goldsmith, Vitali and Olga Nesterenko, Alain Molinari, and Werner Goldsmith celebrating at Piattis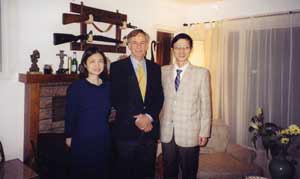 Qing and Betsy Xue at a social occasion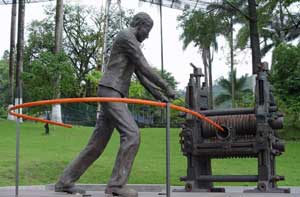 Monument to "Pioneers in Steelmaking" conceived and developed by Pedro and Marc Meyers and erected at entrance of the Barbancon steel mill in Monlevade, Brazil ( their home town). This first integrated steel mill in Latin America was built in Monlevade in the 1930's by ARBED engineers, technicians, and workers under the direction of Louis Ensch, a Luxembourgish pioneer. The sculpture shows an iron worker working a Krupp rolling mill. The steel rod had to be turned 180 degrees in the rolling process. This was accomplished by holding the rod with tongues and reinserting it in mill. It was a dangerous operation that caused several deaths and injuries. As a child, Pedro and Marc spent many hours watching this operation under the careful watch of their father.

The background of the picture shows the "fazenda" built in the early 1800s by the French engineer (politechnicien) Jean de Monlevade. He built a small steel forge in the Piracicaba Valley using the rich local ore reserves.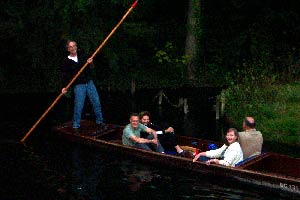 In a scene reminiscent of Dante's "Divine Comedy", Marc Meyers guides colleagues and ladies to academic excellence in Cambridge punting adventure (Photo courtesy of M. Worswick).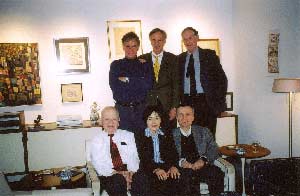 Seminar at Rice University, at Professor Brotzen's house. This outstanding scholar spent several years in Brazil prior to WW2 traveling by burro through the north of Minas Gerais, a region infested by cangaceiros (the Brazilian equivalent of bandits). In those days there were no roads between these isolated towns and the only transportation means was on horseback. These people adhered to a strict code of honor and Prof. Brotzen was never bothered, although the heard many shots being fired. After WW2, he got his Ph.D. and started a long and sucessful career at Rice. He is still active at 90. On the same picture are Carlos Meyers, Michael Carroll, and the chair of the Mechanical Engineering and Materials Science Dept., Tayfun E. Tezduyar and his wife.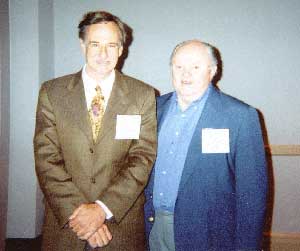 Professor Gilman during a visit to UCSD.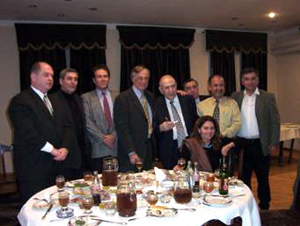 Marc Meyers with Professor Merzhanov and other participants of the South Caucasus International Symposium on SHS, Tbilisi, March 2005.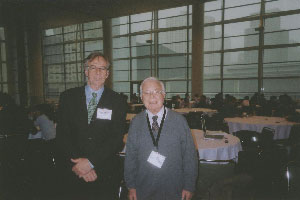 Professor F. R. N. Nabarro and M. Meyers at TMS 2005 meeting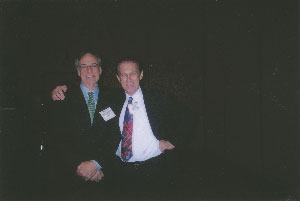 Professor Murr and M. Meyers at the TMS meeting.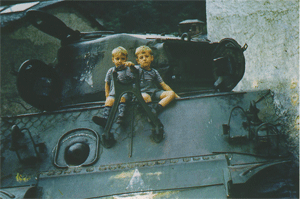 First exposure to armor and ballistics; Pedro and Marc on top of a US tank in Bastogne , thirty miles from their forefathers home towns (in the Luxembourg Ardennes).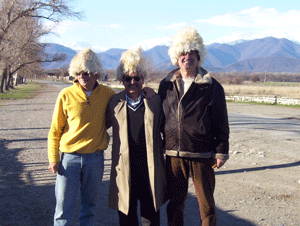 Onwards to Chechnya: Three Georgians (Meyers, Thedhani and Peikrishvili) ten miles from Cancasus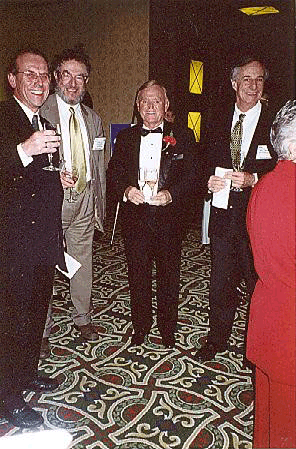 Jeff de Hosson, Colin Humphreys, and Gareth Thomas at the ASM Gold Medal Award ceremony in honor of Gareth.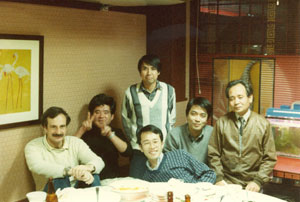 With a group of Japanese researchers at Kumamoto Universty. Standing: right: Prof. A. Sawaoka; left: Prof. K. Hokamoto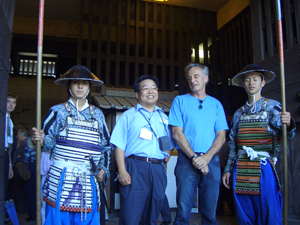 Marc meyers and Hyoung Seop Kim as hostages of samurai.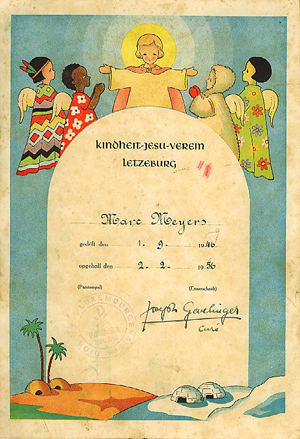 My first certificate, at age 9.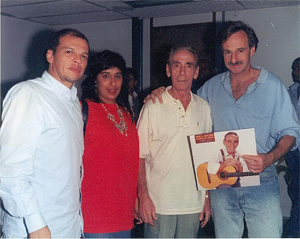 With my idol, the immortal Nelson Goncalves.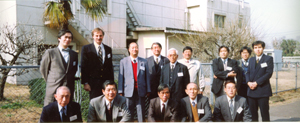 With scientists from the National Chemical Laboratory for Industry (now called National Institute of Advanced Industrial Science and technology), in Tsukuba, where I spent two months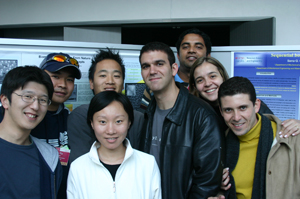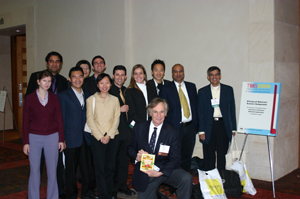 UCSD Contingent at 2006 TMS Symposium on Biological Materials.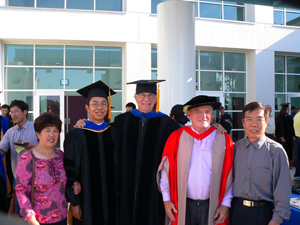 Professor Thomas in Cambridge garb at Eric Li's graduation; his father is on right.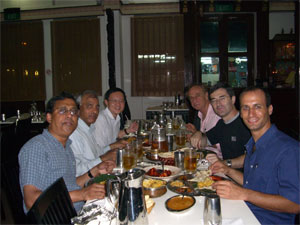 G. Ravichandran(Cal Tech), J. N. Reddy (NAS and Texas A&M), C. T. Lim (NUS) , G. Lykotrafidis(MIT), and Nir Gov( Weizmann Inst.) in Singapore, at the occasion of the GEM4 Summer School.