December 2005
Dear Colleagues: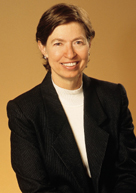 Because this is my final letter of the fall quarter, and of the year 2005, I would like to take a moment to discuss UCSD's overall impact. A university should be judged by the quality of its graduates, and the university's collective contribution to the world. From our innovative and interdisciplinary scholarship to our active involvement in world issues, UCSD has clearly constructed an even brighter future by building on its most notable attributes.
Working with Our Neighbors
We are dedicated to working with other countries to seek answers to global problems. In this spirit of global outreach, I recently traveled to Mexico to unveil initiatives that will improve the quality of life for citizens in both the United States and Mexico.
Our announcement of the new UCSD-Mexico initiatives occurred at a press conference in the Tijuana Cultural Center on November 30. Several prominent UCSD faculty and staff members, Mexican business, cultural, and political leaders and university rectors joined us for this important event. Under the title "UCSD Partnership with Mexico," the first four initiatives focus on:
• Improving air quality in both nations by focusing on Baja-San Diego region; • Building a technology corridor on both sides of the U.S.-Mexico border;
• Improving prospects for all members of Mexican society through innovative economic policies (please see related interview with Economics Professor Chris Woodruff.); and
• Deepening understanding and identifying additional partnership programs, beginning with a full-time UCSD representative in Mexico City.
These first initiatives create a platform for future projects in coming years, providing a dynamic environment on which to build. They will bring together leaders from education, business, government, non-profit organizations and society to address issues that affect our health and welfare.
We have named a group of advisors – Founders – for the partnership. The Founders, including Aaron Feldman, John Moores and Richard Atkinson, have contributed the initial funds for each of the four initiatives.
Capitalizing on UCSD's strength in coalition building, the partnership with Mexico will produce vital collaboration, interdisciplinary excellence, and innovations that will benefit all of our citizens.
Extending Our International Reach
Another promising example of international collaboration at UCSD is the recent announcement that the School of Medicine will work with Egypt's National Research Center in Cairo to help children with inherited mental retardation.
Egypt has a high rate of mental retardation and other inherited genetic diseases. This new partnership aims to enable scientists in the two countries to better understand the cause of these inherited diseases, and improve the ability of the Egyptian scientists to identify families at risk.
The U.S. team is headed by Dr. Joseph Gleeson, Assistant Professor of Neurosciences and Director of the Center for Cerebellar Malformations. Professor Gleeson will work with Dr. Abdel Hamid Abaza, head of Egypt's General Organization of Teaching Hospitals and Institutions.
Creative Collaborations Bring New Solutions
Interdisciplinary approaches bring more than one academic discipline to bear on a particular problem. Through these unusual collaborations, we often break new ground and formulate new solutions.
Nowhere at UCSD is interdisciplinary scholarship more active than in the field of nanotechnology, a field with applications to many areas, including biology, healthcare, environmental science, chemistry, and consumer electronics. One of the latest newsmakers in interdisciplinary collaboration at UCSD involves nanotechnology and cancer treatment, and a $20 million initiative made possible by the National Cancer Institute (NCI).
UCSD will receive $3.9 million in the first year of the five-year initiative to establish a Center for Cancer Nanotechnology Excellence (CCNE). The UCSD center will use nanotechnology to develop anti-cancer therapies that directly target tumor cells, more accurate and faster diagnostics, and ways to track down cancer cells that survive therapy.
The NCI named a total of seven university centers in the initiative. The UCSD team includes engineers, chemists, and biologists who will collaborate with physicians at the Rebecca and John Moores UCSD Cancer Center, colleagues at the Burnham Institute for Medical Research, and UC campuses at Irvine, Riverside, and Santa Barbara.
The Center for Excellence will bring the best minds in engineering, basic and translational research, and clinical care together to apply the power of nanotechnology to the improved treatment of cancer, the second leading cause of death in our society today.
Collaborations Help UCSD to Respond to Natural Disaster
When disaster strikes, people must work together. And when Hurricane Katrina struck Louisiana this fall, UCSD built collaborative, interdisciplinary connections to answer the demands of the disaster. The University responded in many different ways to the aftermath of hurricane Katrina, but the most recent effort involves a collaboration among various disciplines to produce a Geographic Information System (GIS) to assess toxic hazards from the hurricane.
The University was awarded $760,000 from the National Institute of Environmental Health Sciences (NIEHS) to build the GIS. The system links to the NIEHS Hurricane Katrina Information Website, providing workers in the field and researchers with up-to-date information on toxicant exposure and human health. The supplemental grant was awarded by the NIEHS to the UCSD Superfund Basic Research Program (SBRP), directed by Robert Turkey, professor of pharmacology, chemistry, and biochemistry in the UCSD School of Medicine.
Bettering the World, One Idea at a Time
The fall quarter has seen the development and deployment of many innovative products and processes at UCSD. One of the more heart-stopping examples was the simulation of the Jan.17, 1994 Northridge earthquake by UCSD engineers in an effort to test new building designs.
Using the largest shake table in the U.S. (25 ft. by 40 ft.) specially designed by UCSD engineers for the project, a 275-ton, seven-story building was subjected to mechanical shakes that duplicated the ground motions recorded during the Northridge earthquake. Such a full-scale test has never been possible because of weight, space, and technical limitations of smaller indoor shake tables.
The building, also designed by UCSD engineers, was built with less reinforced steel than usual, which could drastically cut construction costs. But the innovative design would also maintain a high degree of seismic safety, according to computational analyses conducted by Professor Jose Restrepo, a structural engineer at the Jacobs School of Engineering.
Professor Mark A. Meyers let his boyhood curiosity of toucan beaks lead him to an innovative discovery: the construction of the beaks could be used to design lightweight, extremely strong products. Meyers, a materials scientist and professor of mechanical and aerospace engineering at UCSD's Jacobs School of Engineering, says makers of airplanes and automobiles may benefit from the first-ever detailed engineering analysis of toucan beaks conducted in his lab.
Meyers and his graduate students report in a paper published on Dec. 1 in Acta Materialia that the secret to the toucan beak's lightweight strength is an unusual bio-composite. The beak's structure acts as a high energy impact-absorption system, which could save lives if translated into car panels.
Strong Numbers: UCSD Rankings Drive Ever-Upward
I cannot sign off for the year without a word about our great "report cards". I am proud to say that UCSD is doing better than ever in national rankings! This fall has seen UCSD rise up the scale in some rankings, as well as achieve ranking 'firsts' for the University. The newest additions to our accolades include one from the Institute for Scientific Information, which ranks UCSD the 9th most-cited institution in the world, based on its published research in science and the social sciences from 1995-2005. Another is from a study published in the Nov./Dec. issue of Science Watch. The study evaluated institutions based on papers published and cited in the field of economics and business, and rated UCSD as the 5th highest impact research institution in the nation from 1995-2005.
In closing, I want to thank you for your interest in UCSD. As you can see, the University is using its current strengths as stepping stones to future success. I wish you and your family a healthy and happy holiday, and look forward to the excitement and learning that the New Year will bring.

With warm regards,


Marye Anne Fox